....and I don't mean to her knees as a whore.
Wait, before I start this blog post I need to write a warning...because some people seem to have a very high opinion of me and give me too much credit.
Here we go... *ahem*
I am not a reporter. I am not a lawyer. I am not in any way, shape or form in law enforcement. I am a mom and a wife. I am an artist and photographer. I have this blog, in which I write (as stated above) rants and ramblings. Are we clear?
Oh, and if you choose to leave a comment, please be a brave boy or girl and leave it..but not anonymously. I am thinking of removing that option because too many asshats choose to comment hiding behind it.
Here's what I think on the Jodi Arias case, thus far. Jodi Arias has been proven a liar. Not one story she's told regarding any abuse from Travis Alexander has come to fruition.
Jodi kept a journal, as a lot of us do. We write what we don't want others to see, our deepest secrets. Jodi seems to have written in it as if she knew she'd have an audience. Or if she was smart enough, she'd write down what she's testified in court in order to pad her stories better. Not one shred of evidence in her journal corresponds with her testimony..no violence by Travis...no abuse by Travis..not pedophilia by Travis. She did write about sex.
Juan Martinez also brought to light two magazines. Jodi Arias tried to pass two magazines to her then attorney, Ann Campbell. They were intercepted by the jail. What they held was very damning for Jodi...but I'm sure she has an explanation about this too.... In one magazine, there were random words close to the binding written in pencil.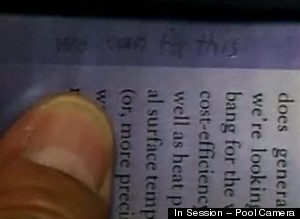 In the other magazine there was page numbers, also written in pencil, that corresponded to page numbers in the first magazine. This was code. The random phrases, when put in order according to the page numbers in the second magazine, made a message.
The message was supposed to be delivered to an ex boyfriend of Arias who was to testify in court regarding Travis' pedophilia. The ex had letters of 'proof' that were later found out to be forgeries. So we see, early on, four months before this trial started - Jodi Arias was trying to manipulate the system and those in it. She wanted her ex's story to match her story, definitely before he testified.
What's been proven in court so far via texts, phone calls, emails and photos is that Jodi and Travis had sex. Also, that Travis had very strong opinions of Jodi and one text spoke out as if it was Travis speaking for himself.
This is a text sent to Jodi from Travis :
"If he knew what you I said about you he'd spit in ur face. So would everyone else. I have never never in my life been hurt so bad by someone. but why do I even say it because you don't care. It doesn't serve your evilness. You couldn't get off your lazy butt to read it could you. That's the sociopath I know so well. It freakin figures. I don't want your apology. I sent you a response to your dire conversation, that I hope you read because you need to read it. Maybe it will spark human emotion in you, something that ONLY SEEMS TO EXIST WHEN IT COMES TO OUR OWN PROBLEMS. But everyone else is just a part of your sick agenda."
For those of you who don't know exactly what a sociopath is...here's an idea literally of a profile of a sociopath.
Profile of the Sociopath
Glibness and Superficial Charm
Manipulative and Conning
They never recognize the rights of others and see their self-serving behaviors as permissible. They appear to be charming, yet are covertly hostile and domineering, seeing their victim as merely an instrument to be used. They may dominate and humiliate their victims.
Pathological Lying
Has no problem lying coolly and easily and it is almost impossible for them to be truthful on a consistent basis. Can create, and get caught up in, a complex belief about their own powers and abilities. Extremely convincing and even able to pass lie detector tests.
Lack of Remorse, Shame or Guilt
A deep seated rage, which is split off and repressed, is at their core. Does not see others around them as people, but only as targets and opportunities. Instead of friends, they have victims and accomplices who end up as victims. The end always justifies the means and they let nothing stand in their way.
Shallow Emotions
When they show what seems to be warmth, joy, love and compassion it is more feigned than experienced and serves an ulterior motive. Outraged by insignificant matters, yet remaining unmoved and cold by what would upset a normal person. Since they are not genuine, neither are their promises.
Incapacity for Love
Need for Stimulation
Living on the edge. Verbal outbursts and physical punishments are normal. Promiscuity and gambling are common.
Callousness/Lack of Empathy
Unable to empathize with the pain of their victims, having only contempt for others' feelings of distress and readily taking advantage of them.
Early Behavior Problems/Juvenile Delinquency
Usually has a history of behavioral and academic difficulties, yet "gets by" by conning others. Problems in making and keeping friends; aberrant behaviors such as cruelty to people or animals, stealing, etc.
Irresponsibility/Unreliability
Not concerned about wrecking others' lives and dreams. Oblivious or indifferent to the devastation they cause. Does not accept blame themselves, but blames others, even for acts they obviously committed.
Promiscuous Sexual Behavior/Infidelity
Promiscuity, child sexual abuse, rape and sexual acting out of all sorts.
Lack of Realistic Life Plan/Parasitic Lifestyle
Tends to move around a lot or makes all encompassing promises for the future, poor work ethic but exploits others effectively.
Criminal or Entrepreneurial Versatility
Changes their image as needed to avoid prosecution. Changes life story readily.
I cannot stress enough the similarities to Jodi Arias as explained above. Travis called her out to a tee.
The appearance of Jodi on the stand also changes. When being examined by her own defense attorney, Kirk Nurmi, Jodi seems sad...looks down a lot.
When Jodi is cross examined by Juan Martinez, she gets very smug. She smirks and almost giggles. It's a slap in the face yet again to the friends and family of Travis! Jodi's mother and aunt also smile quite a bit in court. Guess it runs in the family.
I really don't think being on trial for murder is the place to giggle. Wait..I'm sorry, she's a textbook sociopath, so for her it is. I guess.
After the first day of cross examination by Juan Martinez, Jodi's lies had so many holes poked in them, they resembled fish nets. Her stories of Travis masturbating to photos of boys do not correspond with text messages that same day. Jodi also says that on January 22, 2008 Travis kicked her and broke her finger. She's held it up in court for us all to see.
Jodi says that the day after she found Travis in his home masturbating to boys photos, he kicked her in the ribs and she held up her hand and he broke her finger with the kick. However, two days after the alleged attack, Jodi wrote in her journal that nothing noteworthy has happened. It just doesn't mesh for me. Also, her handwriting in the her journal, made with the same hand she claims the finger was broken on, never changes. Again, not meshing.
I do believe she injured her finger.I don't think she's faking the injury. A lot of people are posting photos of them purposely not straightening their ring finger trying to show it's possible to fake an injury. That's annoying. I do believe she injured her finger, just not when and how she testified. I believe her finger was injured during the 29 stabs and slashes into Travis body on the night of June 4, 2008. So does the prosecution.
There is a lot more to come next week as the prosecution's cross examination continues and I will have my eyes glued to the TV. Oh...and in case you're wondering, this is how I trial watch :
TV on In Session and laptop streaming
directly from the Arizona courthouse....so
I don't miss a thing.
Oh, and Twitter up and running!
To wrap up, I'll remind you that Jodi has confessed to the murder. While she doesn't remember stabbing Travis and practically beheading him, she says the gun accidentally went off in the two minute attack, chase and killing of him. This is after she's lied and told two completely different stories from her not being there to ninjas killing Travis.